Our Services
Serving Nassau County
JC Sprinklers & Landscaping in Port Washington, NY provides dependable and high quality landscaping services. Call 516-916-6199 to hear how we can benefit you

* Lawn Care Services
* Lawn Maintenance Services
* Landscaping Maintenance Services
* Gardening Services
* Paver Services
* Driveway Services
* Artificial Turf Services
* Tree Removal Services
* Fencing Services
* Landscape Design Services
* Hardscaping Services
* Irrigation Services
* Tree Root Removal Services
* Tree Planting Services
About Us
Landscaping Port Washington NY
JC Sprinklers & Landscaping provides reliable residential and commercial landscaping services in Port Washington, NY and the surrounding areas. We bring over 15 years of experience in the industry into each project into each job we do. We use the newest and best landscaping software to design our customer's landscape. We stand out of the competition because we're receptive to the unique needs of each client. No job is too big or too small. We are licensed and insured for your peace of mind.

Our services include landscaping, lawn care, lawn maintenance, landscaping maintenance, gardening, driveway installation, artificial turf installation, tree removal, fencing, landscape design, hardscape installation, irrigation, tree root removal, and tree planting. We provide great workmanship and customer satisfaction is our number one priority. We're friendly and never consider the job done until the customer is happy with the output. We pay close attention to details and customize to the customer's needs. We're trustworthy, dependable, and reliable. We offer fair pricing and give free estimates.

Call JC Sprinklers & Landscaping in Port Washington, NY now to discuss your landscaping service needs with our experts, to request a free estimate, to schedule an appointment or consultation with us as well as to request our services.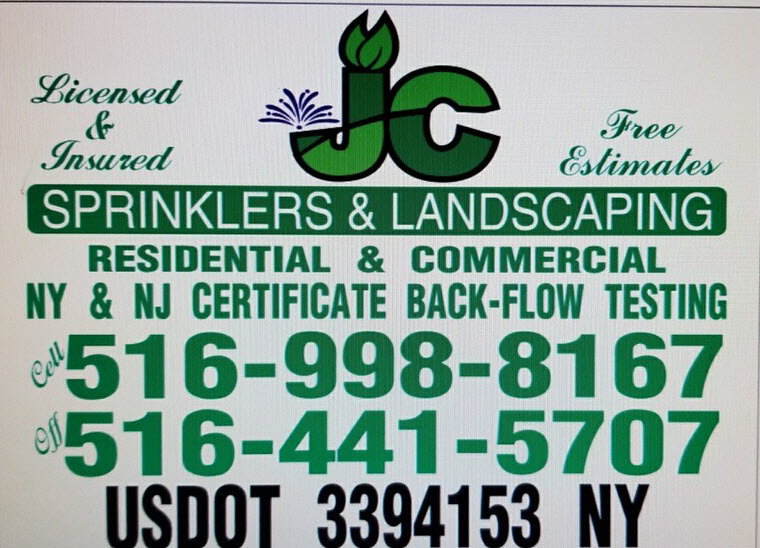 Landscaping Port Washington NY
---
Business Hours
Mon
7:00 AM - 6:00 PM
Tue
7:00 AM - 6:00 PM
Wed
7:00 AM - 6:00 PM
Thu
7:00 AM - 6:00 PM
Fri
7:00 AM - 6:00 PM
Sat
7:00 AM - 6:00 PM
Sun
Closed
Emergency Services Available
Payment Methods
Check, Cash